Do I need to join EWOV?
Under the Electricity Industry Act 2000 (Vic), Gas Industry Act 2001 (Vic), Water Act 1989 (Vic), Victorian LPG Retail Code and General Exemption Order 2022, certain providers of energy and water services are required to become members of the Energy and Water Ombudsman (Victoria) Limited (EWOV).
If you hold a licence to sell or supply electricity and/or gas as a retailer or distributor granted by the Essential Services Commission, you have a legal requirement to join EWOV under your licence conditions.
If you are an embedded network, and hold an exemption from the requirement to have a licence with the Essential Services Commission, you also need to be a member of EWOV under the General Exemption Order 2022.
LPG companies also participate in EWOV under the LPG retail code.
How do I join EWOV?
We've created a handy application checklist to guide you through the steps involved to become a member of EWOV.
Click on the image to download a copy.
If you need any help along the way, contact our Member Liaison Officer on 03 8672 4216 or email membership@ewov.com.au.
.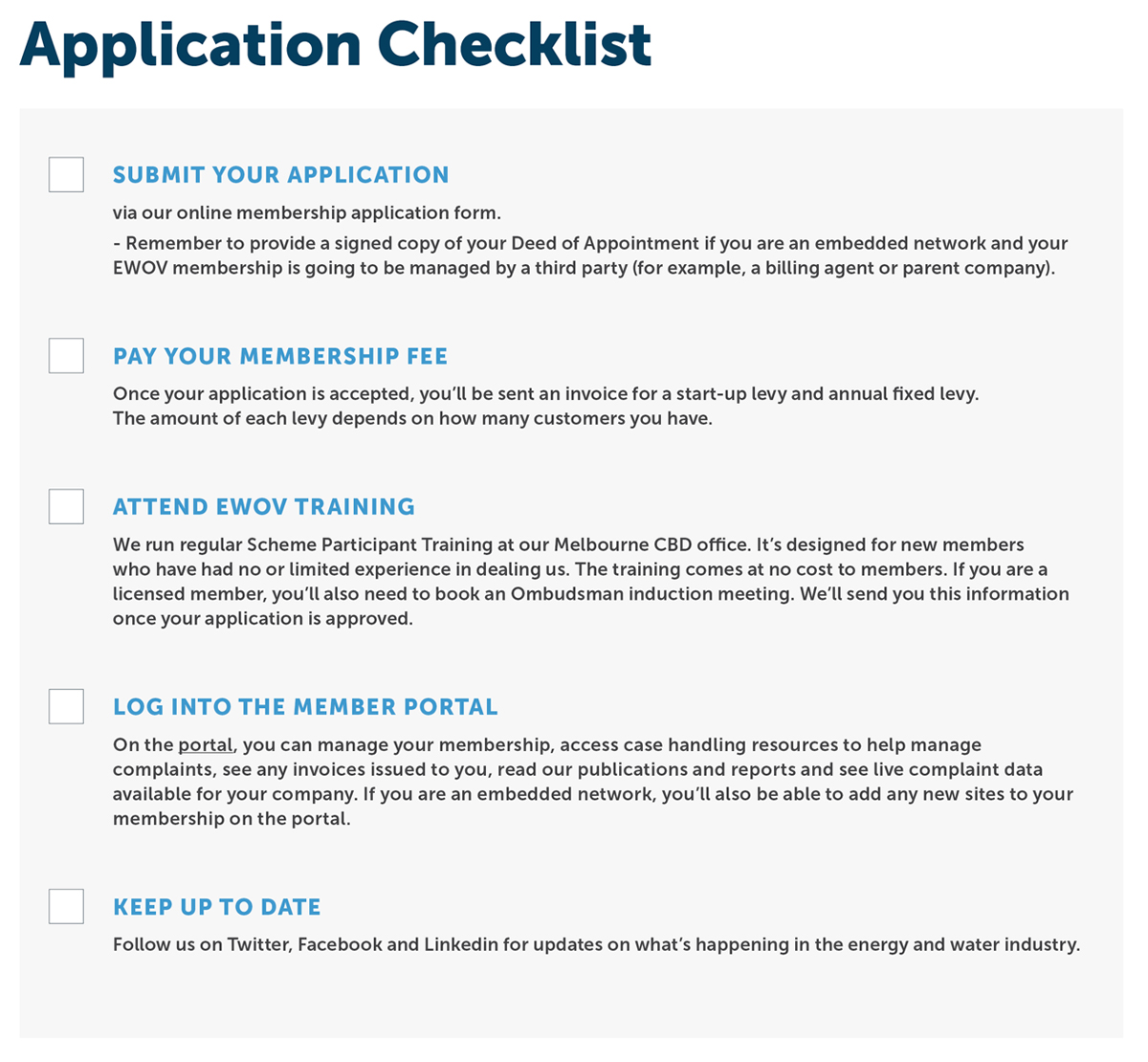 How much does it cost?
EWOV is an industry-based scheme funded by our members. New members joining EWOV will pay two levies, a Start-up Levy and an Annual Levy. The amount of each levy depends on how many customers you have.

Embedded Networks
*amount excludes GST

Licensed Retailers & Distributors
Standard $2,700 Start-Up Levy (plus a 10% GST)
Annual Levy dependent on customer numbers:

*amount excludes GST